Which Drone?
With so many drones on the market, it's sometimes difficult to know which drone to buy. These are just my views and thoughts.
This page aims to help this process a little bit by telling you some of my experiences and some advantages and disadvantages of some drones.
Drone types
Let's face it. There are drones from £40 all the way into £1,000's .... but what's the difference?
I've had as much fun with a £40 Hubsan X4 H107L as with my DJI Mavic 2 Zoom. I would wholeheartedly recommend both of these drones for very different reasons.
Cheap fly anywhere drones
DJI Tello
This is just a great drone for kids (And adults) a decent starter drone .... but it doesn't teach you how to fly as it's that easy --- Look at the Hubsan or Eachine below for that.
The Tello is good, cheap fun though and seems to be getting cheaper every time that I look.
You'll soon grow out of it but STILL a great drone to give-it-a-go without breaking the bank.
Brilliant for indoor and (CALM) outside flying and selfie type photos.
Hubsan X4
The Hubsan is great fun for zooming around both indoors and outdoors. I have flown the little Hubsan in high winds without any problems, and because it's so cheap, it's not the end of the world if you crash it (And you WILL crash it).
I have crashed mine many times and they generally work fine afterwards, I have had many Hubsan's and have a grave yard of spare parts.
Although the Hubsan can take photos and video, don't expect anything spectacular. The drone doesn't have a gimbal, so the camera will be unsteady and point just in the direction that it's facing. There is no live feed of the video to you, so you don't know what photo/video you have until you've landed.
NOTE: The hubsan isn't as easy t o fly as the Tello ... but that's part of the fun. You'll really learn to fly with this drone!
Cheap First Person View (FPV) Drones
Eachine E013
I'm classing FPV as wearing a headset and seeing what the drone sees...
If you fancy trying FPV, then a tiny Eachine E013 Micro FPV RC Drone Quadcopter.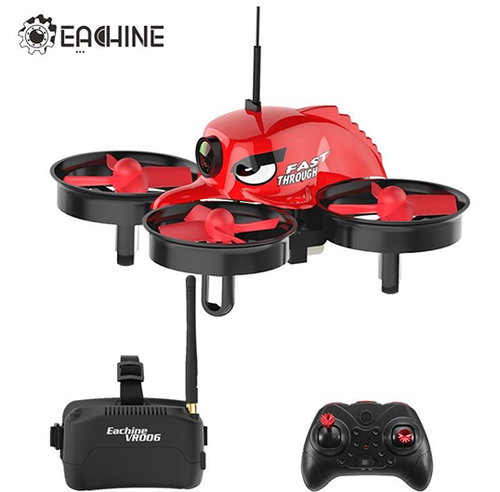 These are really quite difficult to fly at first, so maybe get a Hubsan before this. I have crashed mine so many times but it's still flying and great fun! (Especially flown fast around the house).
I did try flying this a couple of times outside but the lightest of wind just blew me out of control.
These drones don't allow you to take photos of video, but they do give you a live view of what the drone sees through a First Person View (FPV) headset.
Here is my "Attempt at reviewing this drone".
More expensive drones
Parrot Bebop
My first "decent" drone was Parrot Bebop. The drone was great when it worked but I personally had issues with the WiFi link. I have a video here of my last flight of the Bebop.
I would still say that it's an okay, cheap, drone but it isn't anywhere near as good as a DJI Phantom 3 Pro for example.
DJI Phantom Pro
BUT if you want to be able to not worry about the distance you can fly plus take great videos and photos, my personal recommendation would be DJI. (Buy cheap and buy twice).
You can pick up great 2nd hand a DJI Phantom 3 Pro now (I wouldn't bother with the Standard, you will soon outgrow it).
This is my Manfrotto MB BP-D1 Aviator Drone Backpack, which I would recommend if have a DJI Phantom 3 Pro, as it easily fits the drone (Plus all batteries and bits and bobs) plus it allow a DSLR camera too.
These pictures were taken using this drone.
DJI Mavic Mini
A new drone on the market is the DJI Mavic Mini. This uses WiFi but looking at reviews on-line, this looks like a great little drone with a brilliant price.
The Mavic Mini is a bit of a game changer. It's cheaper than the likes of the Mavic Pro series of drones but it's still a brilliant little drone. Careful in the wind, as it doesn't cope as well as some drone but still brilliant. I need one to test.
DJI Mavic
The Mavic and Mavic 2 drones are, in my opinion, great drones. They are expensive but they are easy to fly, reliable and just GREAT drones.
My Mavic zoom packs away into a tiny bag that can be carried (Literally) anywhere and comes with me all of the time.