Cornwall Area Drone Adventures
By Paul Hockaday
Colliford Lake Drone Adventure
Living so close to Colliford Lake, I always enjoy going there for a walk around and have taken my camera there to photograph the dead trees on the edge of the lake. Being the largest reservoir in Cornwall, it is quite a place to walk around.
I set out early in the morning, and left home around 6:30am, having dropped the wife off to wok, I headed out to Colliford. Up the A30 for 10 minutes and I arrived at the car park. Free parking for the day and during summer hours, there are toilets there for those that need. At first, I wondered around with my camera and took some shots of the reservoir with the sun rising behind.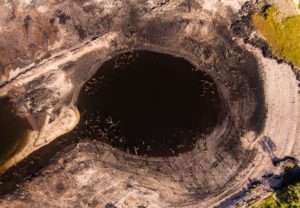 After a couple of hours, I returned to the car and unpacked my trusty Phantom 4. The weather was calm, clear and dry with no wind, what more could I ask for! There is a large grassed area in front of the car park that is good for creating a landing zone. I whipped out my portable landing pad and pinned it to the ground. A couple minutes passed before I could get up in the air.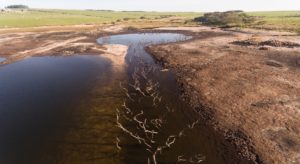 I went up to maximum altitude, 400 feet and the view was spectacular. The sky was clear and had just risen so was just right. I flew around over the dead trees, taking a few pictures as I went. Then found an interesting area which grabbed my attention. It was the remains of either an old quarry works, or old settlement.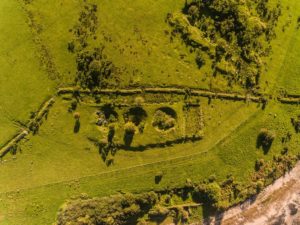 From where I was, I flew all the way to the other side. There is a fantastic looking building within the reservoir itself. It is something I have always seen when out taking pictures but thought that his time I would fly over the top and get it from above.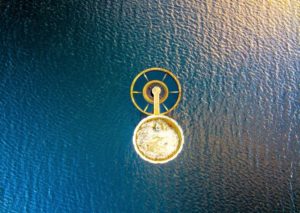 After taking a high-altitude image of the reservoir my battery warning came on, so I decided it was time to land. As you can see in the pictures of the reservoir itself, the lake itself was down on its normal level due to the hot weather that we experienced over the summer.